How to Optimize Video Marketing Content for Facebook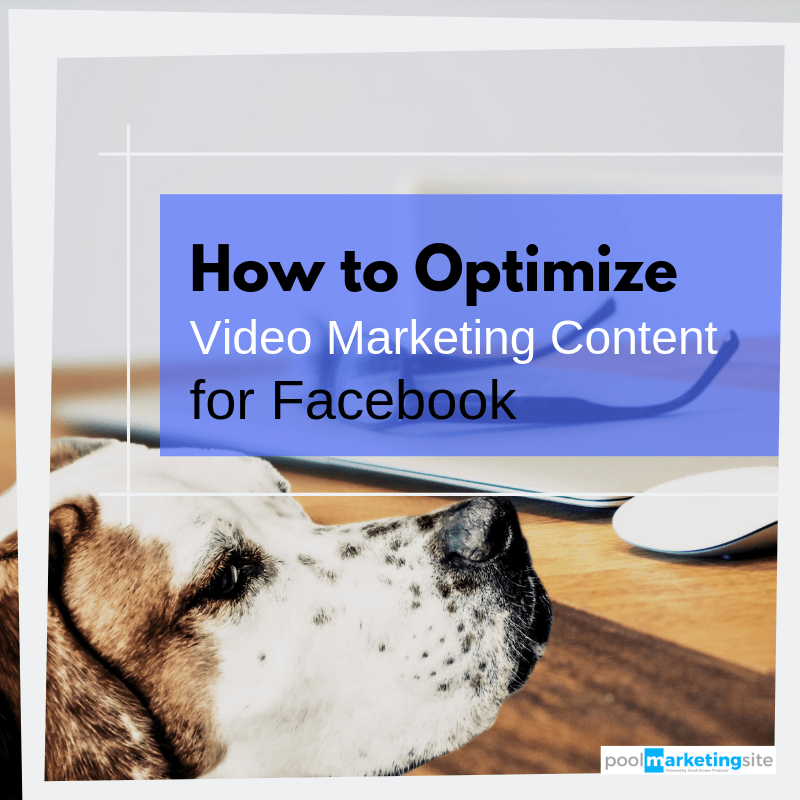 It's no surprise that video is the way to go if you want to engage a wide range of audiences. Facebook acknowledges this and recently published their list of best practices to help you reach more people with your video marketing posts.
The four signals for video marketing on Facebook are as follows:
Originality

Engagement

Viewing behaviors & video attributes

Loyalty and intent
Let's break these down one-by-one.
Video Marketing Originality
This means posting fresh, brand new content that doesn't exist on Facebook or anywhere else. Creating brand new videos showcasing a fun pool project you're working on, for example, is original. Sharing a testimonial video you put together is a great way to expand your reach.
Anything on video which is new and relative to your pool and spa company is going to go a long way on Facebook.
Engagement
Organic distribution of your video marketing content will also help make or break your video's success.
The more shares a video gets, the more likely it is to be seen on a broader scale across Facebook. "Likes" and other reactions will also help put your video content in front of the faces of more social media users.
Viewing Behaviors and Video Attributes
There are a number of signals this social network takes into account when it comes to video distribution.
One strong distribution signal is how long a viewer watches the video. If that person views your video in its entirety, that tells Facebook that it's good content.
An even stronger distribution signal is if the video is shared. Sharing tells Facebook that your video is worth having hundreds of others potentially take a look at it.
Then there are comments. The more comments a video amasses, the better your video will perform.
Loyalty and Intent
What may be the strongest distribution signal on Facebook of all is if an individual continuously searches and returns to your page to watch your videos. As you can expect, this tells Facebook that you produce great video marketing content that audiences enjoy and find helpful.
Pool Marketing Site specializes in putting together videos that both tell the story behind your pool and spa company while building their trust in your brand. From explainer and demo videos to projects and testimonials, we've done it all from start to finish.
Don't Have Time for Video Marketing or Facebook?
Pool Marketing Site has got you covered. We offer an extensive selection of online marketing solutions that can be mixed and matched to ensure that your pool and spa company business goals are reached.
Contact us by email at info@smallscreenproducer.com or call us at (281) 940-3798 to start exploring opportunities to grow your pool & spa company both by video and social media today.
About Small Screen Producer
Small Screen Producer is dedicated to create and optimize your company's total online presence. As a leading innovator of digital media marketing since 2008, we have the experience to capitalize on your unique strengths to help your business succeed. Our goal is to help you Position, Pursue, Promote, and Protect your business. We offer a complete line of digital marketing solutions to get this done. They include website design, Google Ad services, Facebook and Instagram Ad services ,website lead capture tools and automation, social media marketing, reputation management, technical services, , graphic design, video production and monthly service plans. We take your online marketing and advertising off your to-do list, so you can focus on your core business.
Contact us today to learn more about boosting your company's revenue through our four pillars of success that will Position, Pursue, Promote, and Protect your business.