New Study: Chatbots the Future of Customer Service & Sales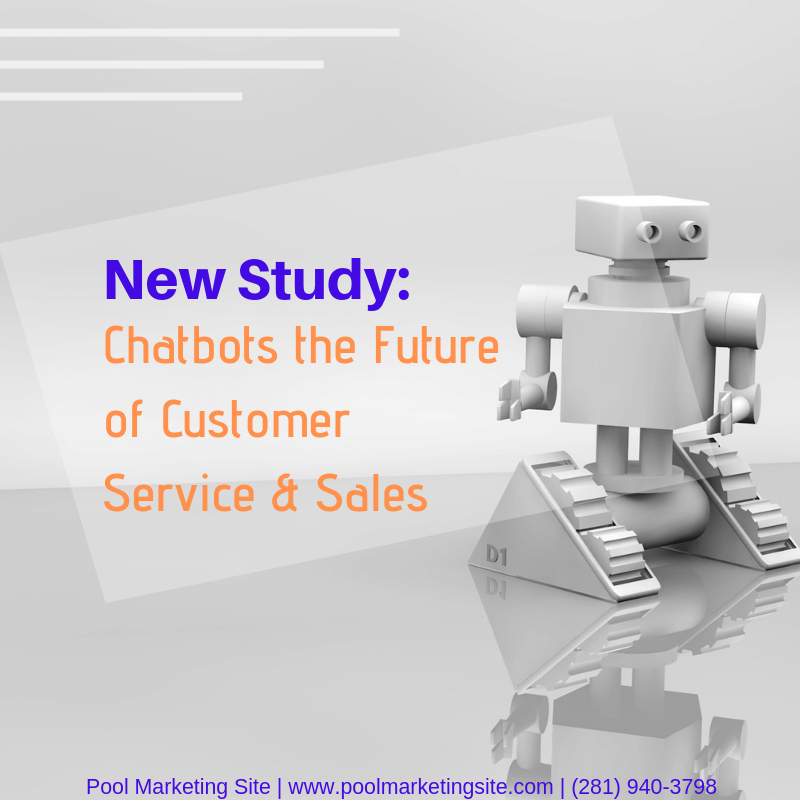 Not too long ago, automated customer service was something that was frowned upon. It was clunky, unhelpful and a time-waster. Thanks to advancements in AI, however, automated forms of customer care like chatbots are not only being accepted by consumers – they're preferred.
Juniper Research recently analyzed how chatbots and AI were affecting retail businesses. They have predicted that by the end of 2019, retail sales derived from chatbot-based interactions will hit well over $7 billion.
By 2023, it's been forecasted that chatbots will account for $112 billion in sales.
Not only will this innovative technology drive sales. These automated interactions can save businesses up to $7 million this year, and as much as $439 billion by 2023.
Benefits of Using Chatbots
Pool Marketing Site currently offers Facebook Messenger Automation. This allows pool and spa companies to incorporate Messenger Bots onto their Facebook business page.
There are several benefits to using this advertising solution:
Immediate Reliable Customer Service
Your Messenger Bot will be loaded with pre-built responses so customers can ask questions and have them answered while they shop. This increases the chances of them following through with their purchase.
No longer will you need a potential client's email or phone number to keep in touch. Our messaging system gives you the opportunity to follow up with anyone who is part of Facebook's several millions-strong online community.
More Conversions and Sales
Your Messenger Bot is a dynamic force that will learn the name of an individual as well as have access to previous conversations. This allows for better opportunities in both making a first-time sale and upselling additional products and services.
Staying on top of the latest technological developments in online marketing is time consuming and complicated. Let Pool Marketing Site take care of the marketing for you with our array of digital media marketing solutions!
Find out more about our affordable advertising options by perusing our website or give us a call now at (281) 940-3798.
About Small Screen Producer
Small Screen Producer is dedicated to create and optimize your company's total online presence. As a leading innovator of digital media marketing since 2008, we have the experience to capitalize on your unique strengths to help your business succeed. Our goal is to help you Position, Pursue, Promote, and Protect your business. We offer a complete line of digital marketing solutions to get this done. They include website design, Google Ad services, Facebook and Instagram Ad services ,website lead capture tools and automation, social media marketing, reputation management, technical services, , graphic design, video production and monthly service plans. We take your online marketing and advertising off your to-do list, so you can focus on your core business.
Contact us today to learn more about boosting your company's revenue through our four pillars of success that will Position, Pursue, Promote, and Protect your business.