Instagram Introduces One-Tap In-App Shopping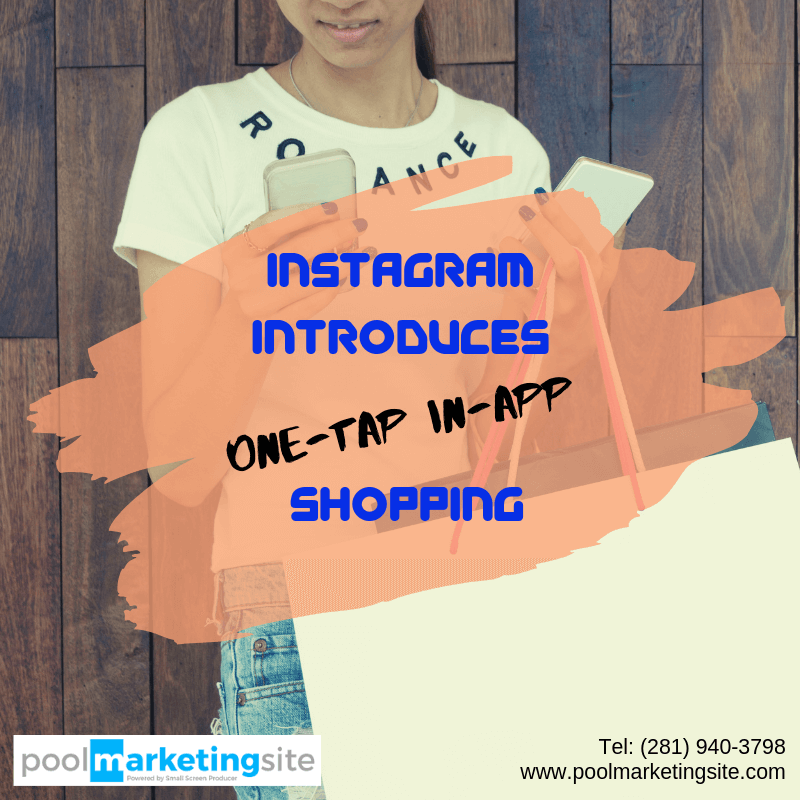 When Instagram first hit the social networking scene back in 2010, it was largely about selfies and sharing videos as well as snapshots of things users found beautiful, interesting or quirky. Fast-forward a few years, and it is now an advertising powerhouse that is transforming the lives of online businesses for the better.
Instagram has made a number of updates throughout the years. One of the most exciting is right around the corner with pool and spa companies soon being able to "tag" and link brands, as well as products, directly from their gorgeous Instagram images.
What's Changing with Tagging on Instagram
Creators have the ability to tag brands in photos as well as provide a short write up about products in a caption. The problem is that users still have to look up that product on their own if they want to make a purchase.
With this new tagging update, users can tap on a pool or spa product tag and then be conveniently sent to your in-app shopping page, making the sales process a whole lot easier.
Initially this functionality will only be available to a small group of key influencers who are part of Instagram's checkout beta. The network plans on rolling it out to all businesses over time.
Why Your Pool & Spa Company Needs to Be On Instagram
If you're not already on Instagram, you're missing out on a major marketing opportunity.
Instagram

hit the 1 billion monthly active user mark in June 2018 (and over 500 million use this platform on a daily basis!). Given the popularity of the network, it's fair to assume that this number has grown even more since then.

Eighty-three percent

of Instagram users are discovering new products and services on the platform. Simply being on the network is helping bridge the gap between consumers and businesses.

Instagram is great for user engagement. In 2018,

Emarketer

found that Instagram was the second most engaged social media network (Facebook claimed the top spot).
Make Your Best Impression on Instagram with Pool Marketing Site
Share your story, promote your business and increase brand awareness with Instagram Ads! Pool Marketing Site helps pool and spa companies get in touch with their ideal audiences through a variety of Instagram and Facebook Ads including Photo Ads, Video Ads, and Stories Ads.
Interested in getting started on Instagram? Click here to choose your appointment date and time with an accomplished online marketer now!
About Small Screen Producer
Small Screen Producer is dedicated to create and optimize your company's total online presence. As a leading innovator of digital media marketing since 2008, we have the experience to capitalize on your unique strengths to help your business succeed. Our goal is to help you Position, Pursue, Promote, and Protect your business. We offer a complete line of digital marketing solutions to get this done. They include website design, Google Ad services, Facebook and Instagram Ad services ,website lead capture tools and automation, social media marketing, reputation management, technical services, , graphic design, video production and monthly service plans. We take your online marketing and advertising off your to-do list, so you can focus on your core business.
Contact us today to learn more about boosting your company's revenue through our four pillars of success that will Position, Pursue, Promote, and Protect your business.