Why Every Pool & Spa Company Website Design Needs a Sales Quote Estimator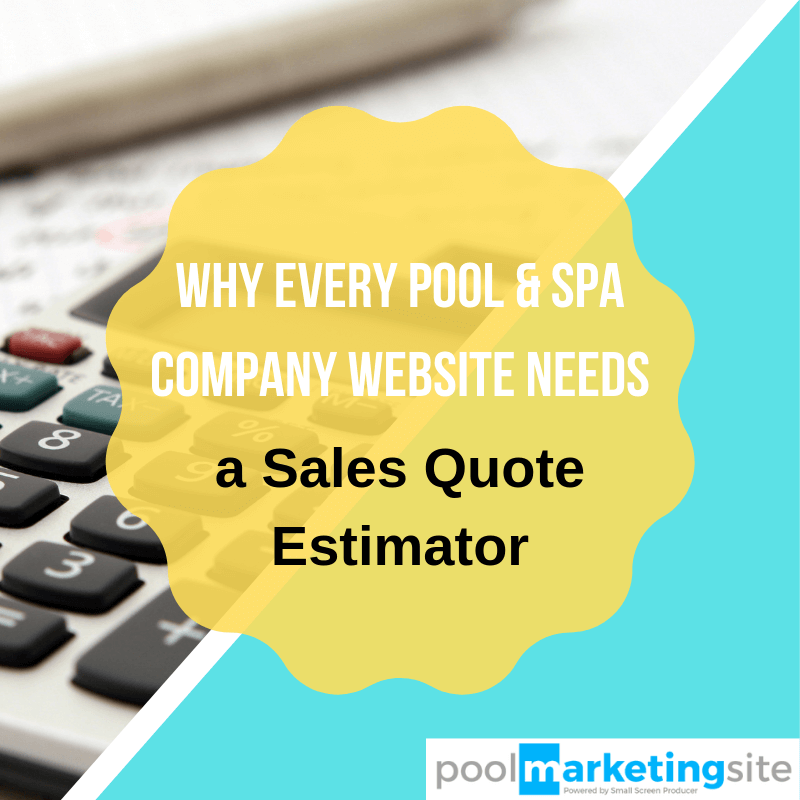 There are a number of elements all successful pool and spa company website designs have in common. Many you can guess, but there may be one or more you haven't considered.
Professional photos of your poolscape projects, a clean website layout and easy navigation are just the beginning of having an engaging website that is going to help you expand brand awareness and rev up sales. To increase engagement and the amount of time visitors are spending on your website, add a sales quote estimator or calculator to your website.
3 Benefits of a Website Sales Quote Estimator
Chances are a lot of your website visitors already have a ballpark figure of how much they assume their pool project is going to cost. But as we've experienced, this figure is often way off-base.
Having a sales quote estimator on your pool and spa company website does more than encourage visitors to spend more time on your site. There are additional benefits, like:
It makes your visitors' lives easier
The easier you make the pool design and building process on your visitors, the better the impression you'll make. Potential clients can get an answer on how much their pool project is going to cost instantly without having to spend time on the phone or sending your company an email.
It helps qualify leads
Once a visitor has an idea of how much their pool project is going to cost when working with your company, they can make the decision to contact you further for information or not.
It makes your pool company more trustworthy
Transparency is hard to come by in the online world. Having a sales quote estimator makes your pool company seem more reliable and trustworthy in the eyes of online visitors.
Professional Website Design Services by Pool Marketing Site
The website design team at Pool Marketing Site are leaders in pool and spa online marketing. We offer a variety of website services, including customizable and affordable sales quote estimators for new pools, hot tubs, and pool remodels. Call us now at (281) 940-3798 to learn more!
About Small Screen Producer
Small Screen Producer is dedicated to create and optimize your company's total online presence. As a leading innovator of digital media marketing since 2008, we have the experience to capitalize on your unique strengths to help your business succeed. Our goal is to help you Position, Pursue, Promote, and Protect your business. We offer a complete line of digital marketing solutions to get this done. They include website design, Google Ad services, Facebook and Instagram Ad services ,website lead capture tools and automation, social media marketing, reputation management, technical services, , graphic design, video production and monthly service plans. We take your online marketing and advertising off your to-do list, so you can focus on your core business.
Contact us today to learn more about boosting your company's revenue through our four pillars of success that will Position, Pursue, Promote, and Protect your business.