Statistics Show Direct Mail Marketing Isn't Dead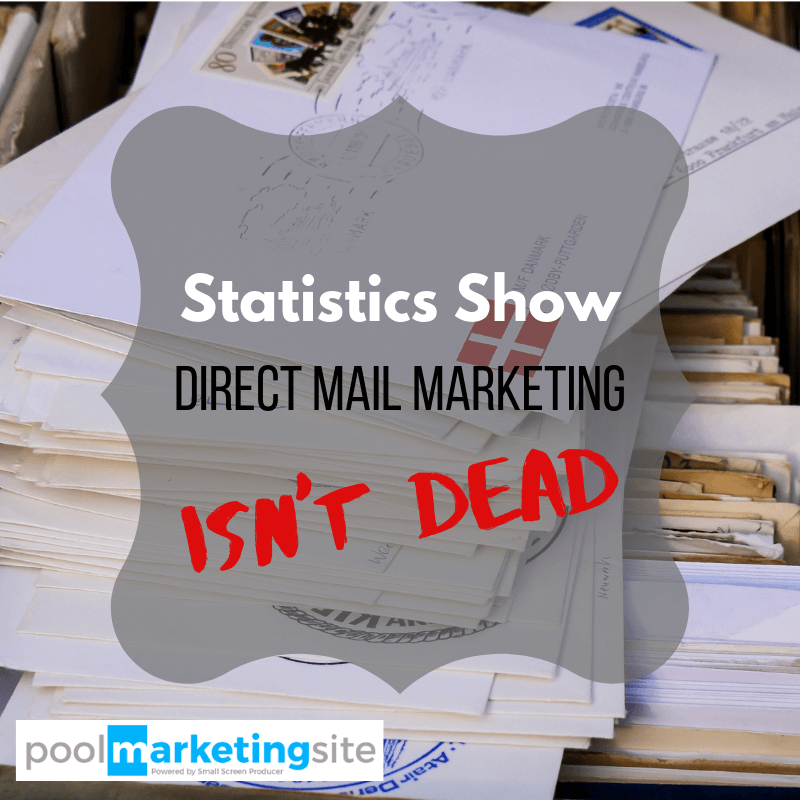 When it comes to marketing, a lot of us hear that old school methods are ineffective and online is the place to be. While there is no question that newspaper and radio ads aren't as beneficial as they once were, other methods – like direct mail – continue to produce stellar results for pool and spa companies.
Don't believe us? Here are some points to consider:
Consumers Like Direct Mail
One study found that 79 percent of consumers open direct mail the moment they receive it. 54 percent of respondents to another study said that they actually preferred direct mail marketing over any other type of marketing.
People Respond to Direct Mail More than Email
According to one study, the response rate to direct mail was an astounding 750 percent more than email. Personalizing your postcards and other print marketing can further boost the response rate by 135 percent.
Don't fall into the trap of believing that direct mail campaigns are only for older folks, too. 93 percent of individuals between the ages of 25 and 34 have responded to direct mail, with 88 percent responding within six months.
Direct Mail Marketing Means an Increase In Warm Leads
Many marketers can attest to the fact that direct mail has lead to a healthy and steady increase in qualified leads. Postcard marketing campaigns have been proven to:
Increase the amount of time prospects spend on a website

Increase the number of calls your sales team receive

Increase the number of online contacts you receive
How Pool Marketing Site Can Help
Our Postcard Remarketing Services will put you in touch with the right audience at the right time. This strategic marketing solution has been proven to not only increase your lead numbers but to promote brand awareness and to drive sales.
To learn more, we invite you to give us a call at (281) 940-3798.
About Small Screen Producer
Small Screen Producer is dedicated to create and optimize your company's total online presence. As a leading innovator of digital media marketing since 2008, we have the experience to capitalize on your unique strengths to help your business succeed. Our goal is to help you Position, Pursue, Promote, and Protect your business. We offer a complete line of digital marketing solutions to get this done. They include website design, Google Ad services, Facebook and Instagram Ad services ,website lead capture tools and automation, social media marketing, reputation management, technical services, , graphic design, video production and monthly service plans. We take your online marketing and advertising off your to-do list, so you can focus on your core business.
Contact us today to learn more about boosting your company's revenue through our four pillars of success that will Position, Pursue, Promote, and Protect your business.