Build Effective Mobile and Tablet Sales Tools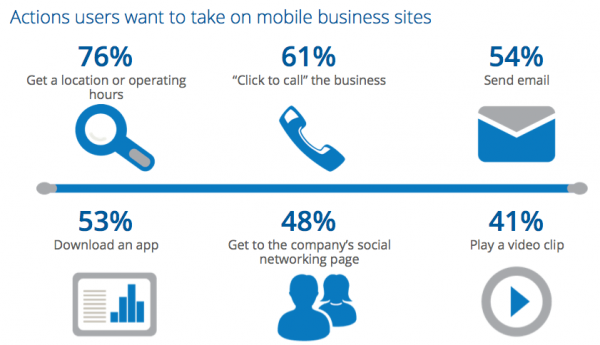 In order to create effective mobile and tablet sales tools, you need to understand what your customers want and develop a strategy to give it to them on the device of their preference.
Mobile Is On the Rise
You may have heard before that mobile internet usage is expected to surpass desktop internet usage by 2015. Mobile doesn't just mean smart phones though. Tablets like the iPad or Samsung Galaxy are included when calculating mobile usage trends.
Mobile Is Different
A mobile site should not be your full website on a smaller scale. With mobile and tablet devices, your real estate is decreased significantly.
People on mobile devices are in a different mind frame – whether they're looking for an immediate purchase, perusing while waiting in line or using as a second screen while watching TV.
Another thing to note is typically mobile has a slower connection than a desktop computer.
What Your Customers Want:
78% of people want to find what they're looking for in 1-2 clicks
61% of people want a click to call function/54% of people want to send an email
41% of people want to play a video clip
48% of people want easy access to a company's social media accounts
74% of people want the design to be clean and efficient
74% of people want an option to go to the full site
*Stats from the latest Google Survey
How To Deliver
Responsive web design is a great strategy for tablet usage, and can sometimes transfer over to mobile devices as long as the content on your site is not cumbersome. However, if you have a larger website with several photos, a dedicated mobile site and dedicated tablet site can create a more user-friendly experience, which leads to higher traffic, lower bounce rates, and higher lead conversion rates.
Mobile and tablet design should follow one principle rule: Keep. It. Simple.
Remember how people want to find information on your site in 1-2 clicks? Your navigation menu should be simple and large enough to read on a small screen. You should only include the more essential aspects of your full website, based on how your customers browse. If you see in your Google Analytics that your photos, contact and FAQ are the highest traffic pages of your site, those should be on your mobile site. Your phone number should have a click to call functionality. Adding embedded video will increase engagement.
Bottom line, your mobile and tablet sites should have a strategy behind them based on your customer behavior. Without a strategy, you are not taking user experience into consideration, and you are hurting your lead conversion rate.
Examples of Successful Mobile and Tablet Designs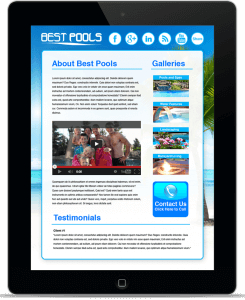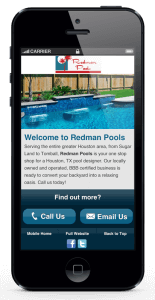 Don't just stop at a mobile website! If usage trends continue to rise, your marketing will have to adopt mobile marketing practices.
Mobile coupons and specials
Mobile-based loyalty program
Geo-Location Marketing Services
Custom point of sale kiosks
Appointment reminders!
Build your database. Reach your smart phone users on their platform of choice!
View our digital pool marketing brochures for builder, service and retail to see what we can do for you! To get started on your mobile and tablet sales tools, contact us today.
About Small Screen Producer
Small Screen Producer is dedicated to create and optimize your company's total online presence. As a leading innovator of digital media marketing since 2008, we have the experience to capitalize on your unique strengths to help your business succeed. Our goal is to help you Position, Pursue, Promote, and Protect your business. We offer a complete line of digital marketing solutions to get this done. They include website design, Google Ad services, Facebook and Instagram Ad services ,website lead capture tools and automation, social media marketing, reputation management, technical services, , graphic design, video production and monthly service plans. We take your online marketing and advertising off your to-do list, so you can focus on your core business.
Contact us today to learn more about boosting your company's revenue through our four pillars of success that will Position, Pursue, Promote, and Protect your business.