Client Profile: Peak Pools and Spas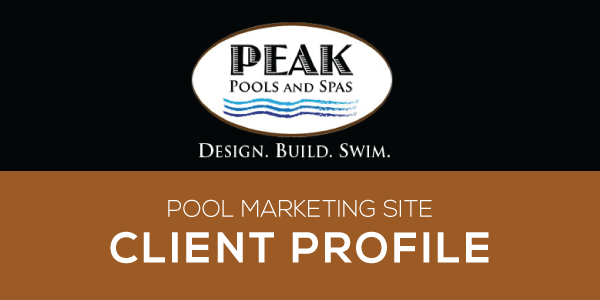 Family-owned and operated pool builder Peak Pools offers some of the most structured, intelligent pool designs in the Houston, Katy, Kingwood, Pearland, and surrounding areas. The company's owner continues the family legacy of quality pool design and construction handed down from his father, who built a strong and respected reputation within the pool and spa industry.
What makes Peak Pools stand out from the other pool builders in the Houston area is the personalized service. You won't be passed off to salesmen, sub-contractors, or to be left with at your own devices building your custom pool all by yourself. Instead, you'll meet the highly-experienced pool experts who have worked with the family for over 10 years and have as much as 30 years of experience. And a website that captures that same personal experience.
When the Pool Marketing Site team set out to build Peak Pools a brand new, custom web presence, we wanted to create a place that was warm, inviting, and intelligently structured.
When users first visit the custom site, they'll come across a bright photo slider set against a warm copper color-blocked background design.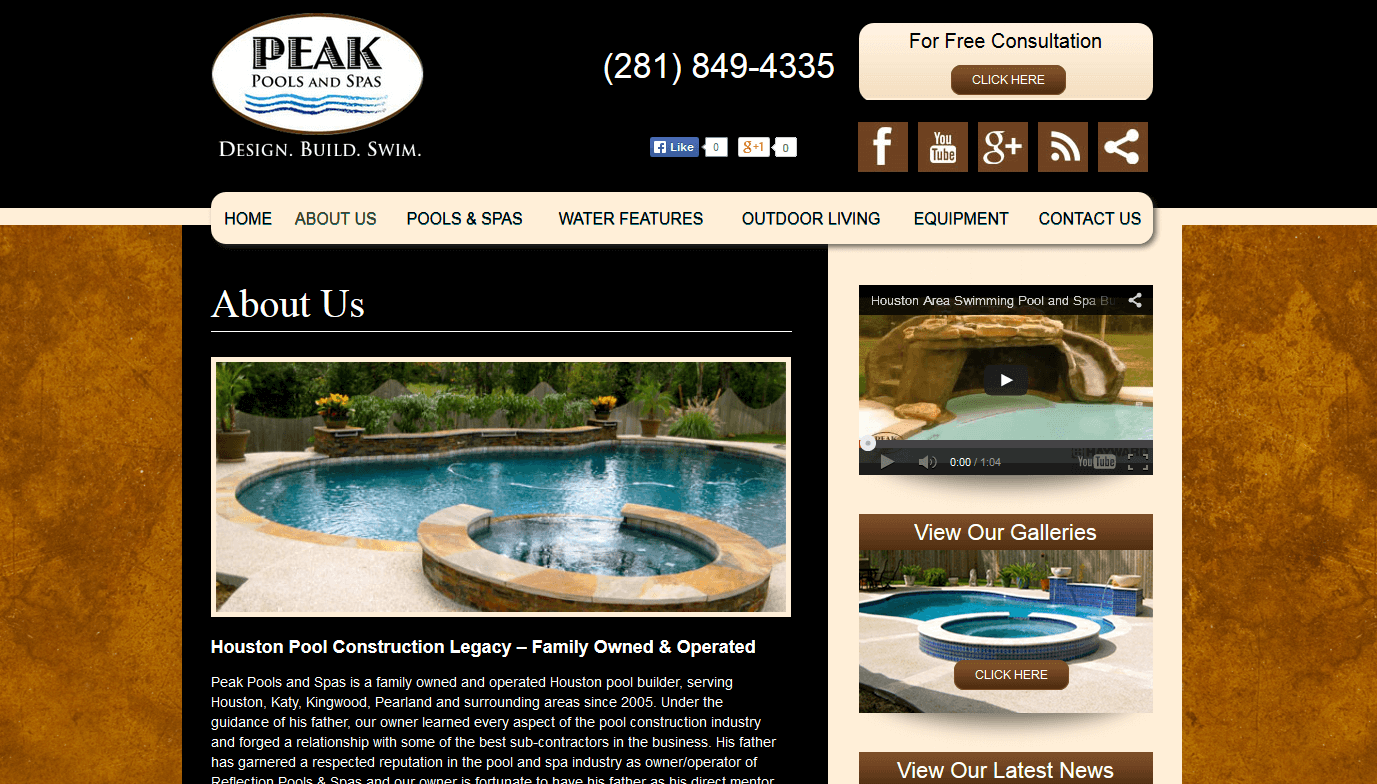 Under the intuitive navigation, Peak walks the visitor through the process of building their backyard space with separate pages first describing the pool construction process, design features, and separate high-res photo galleries for both freeform and geometric pools. The second detailed page describes particular water features to educate visitors on additional pieces that can bring new dimension to their pool.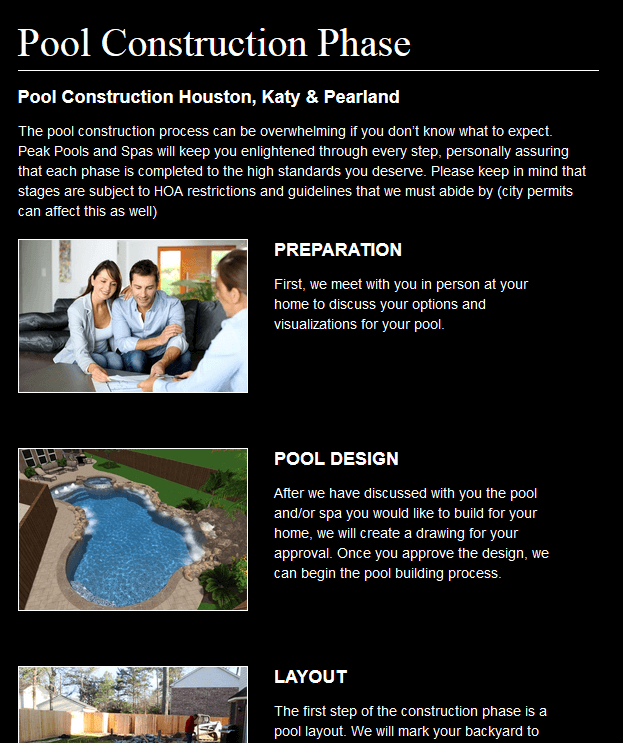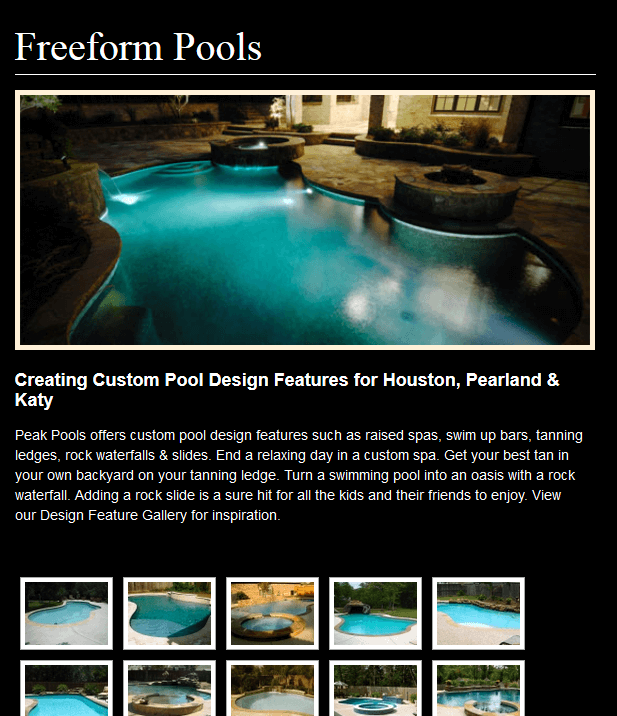 Thirdly, where would a pool be without a complimentary outdoor living space? Peak's Outdoor Living Page offers a wide range of features to add including outdoor kitchens, living areas, lighting, and fire features.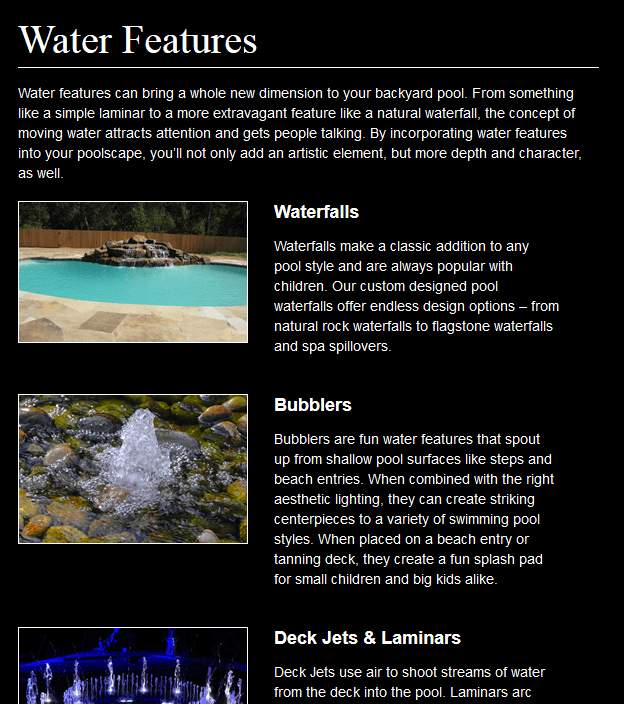 And finally, for the ultimate upkeep and pool maintenance, a separate page was created to highlight the best Hayward pool products on the market.
Visitors can keep track of other aspects of the page, including a custom-made company video, galleries, latest news, and specials which are automatically set on every page of the site.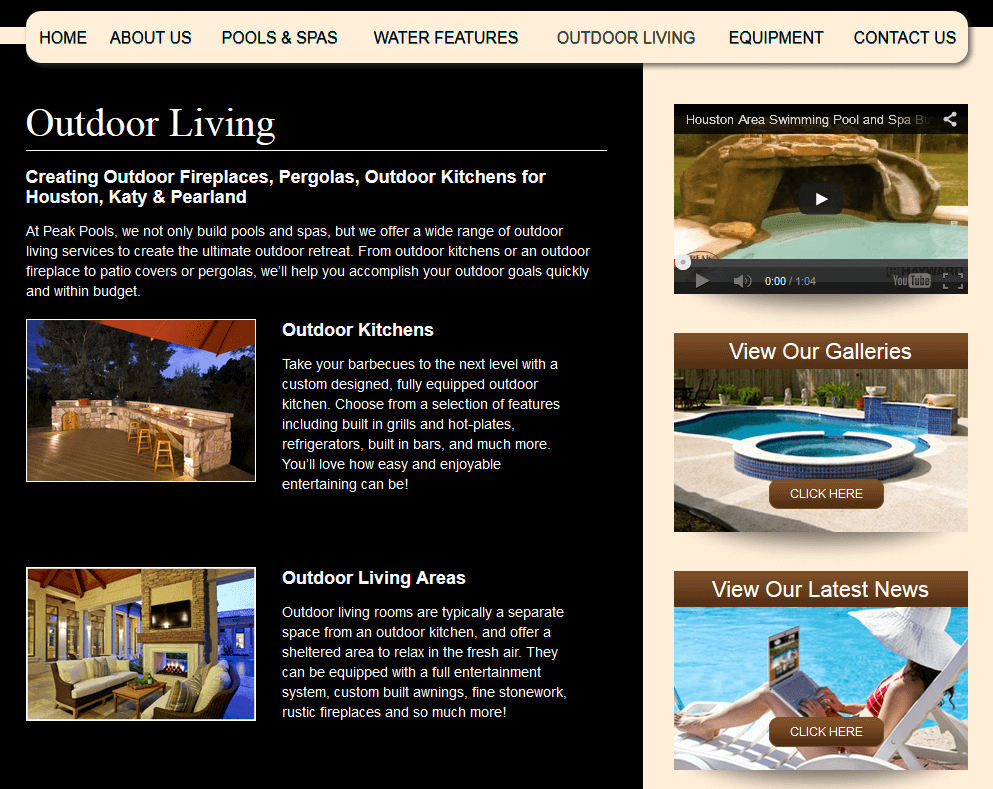 Web-responsive fluid design makes the website beautiful on every device, whether you're viewing the site on desktop, tablet, or mobile.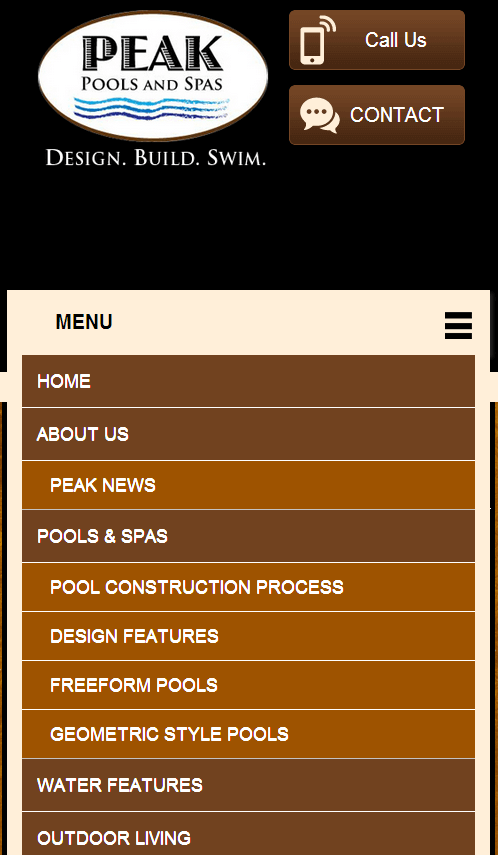 With the personalized experience offered by the custom design pool builder, Peak is ready to make a lasting impression in service and design. Contact Peak Pools will and be warmly welcomed into the family.


Do you need help building a brand new web presence or refreshing your current one? Sign up for our free 32-page comprehensive marketing report, which will give you information about your current presence as well as the those of your competitors'.
About Small Screen Producer
Small Screen Producer is dedicated to create and optimize your company's total online presence. As a leading innovator of digital media marketing since 2008, we have the experience to capitalize on your unique strengths to help your business succeed. Our goal is to help you Position, Pursue, Promote, and Protect your business. We offer a complete line of digital marketing solutions to get this done. They include website design, Google Ad services, Facebook and Instagram Ad services ,website lead capture tools and automation, social media marketing, reputation management, technical services, , graphic design, video production and monthly service plans. We take your online marketing and advertising off your to-do list, so you can focus on your core business.
Contact us today to learn more about boosting your company's revenue through our four pillars of success that will Position, Pursue, Promote, and Protect your business.