Client Profile: Premier Aquatics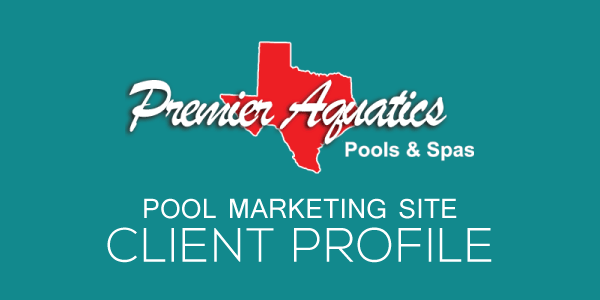 When long time roofer and entrepreneur Bobby Buhler saw a growing demand for pool and backyard spaces from existing clientele in Victoria, Texas, and surrounding areas, he decided to take action. He paired up with seasoned pool construction expert, Regan Belvin, and with their powers combined, formed the top-of-the-ladder source for building your perfect pool and backyard space, Premier Aquatics.
Premier Aquatics is a pool design and outdoor living construction set on building ideal pool and backyard spaces in Houston, Victoria, and surrounding areas. The company sought out the Pool Marketing Site team to design a trendy new web presence to coincide with their adaptive, up-to-the-minute approach in design. The company is known for having the best, cutting-edge technology and materials used by their team of brainy, bright, and brilliant designers, builders, and craftsmen.
In addition, the team is set to accomplish more than just a good-looking pool or patio space, but a great, unparalleled customer support; they don't just state, but guarantees every client the satisfaction of the pool and backyard of their dreams.
Take a look at the new Premier Aquatics website and be wowed by the huge high-resolution slider of gorgeous completed design projects.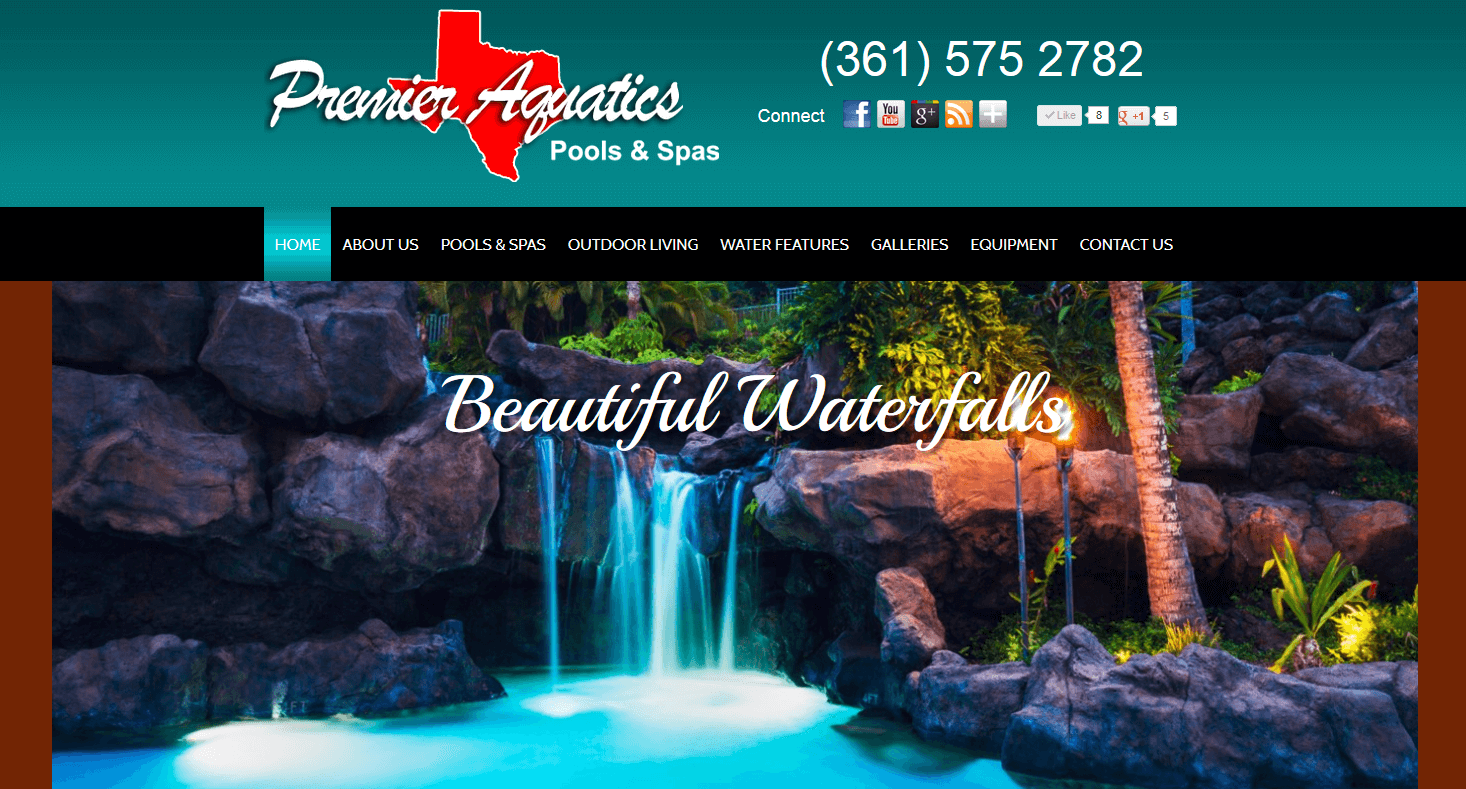 And if those images weren't enough, scroll a little further down and view more categorized photo galleries of any type of pool design, shape, or outdoor living space imagined.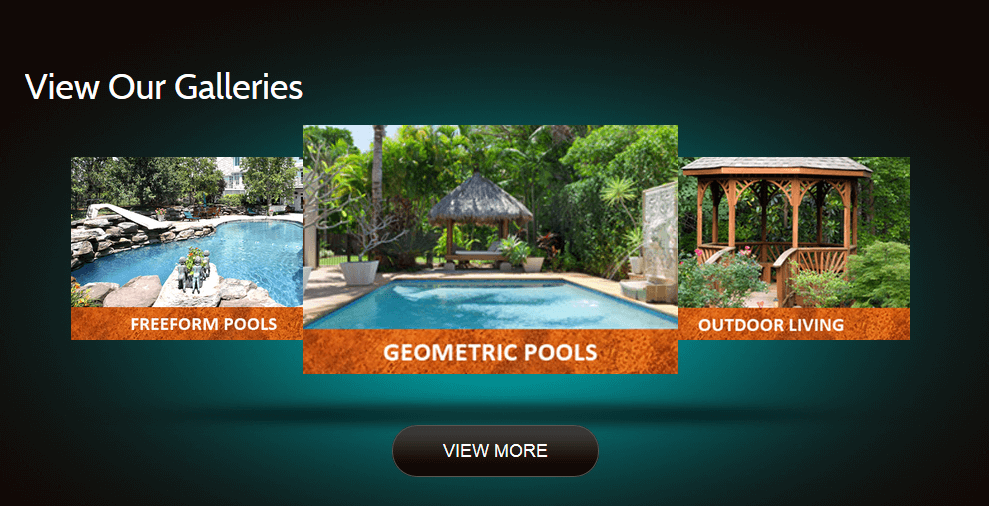 Want to learn all about what services Premier Aquatics offers without feeling overwhelmed and bogged down by text? View specific information on each one of their services by clicking the areas below.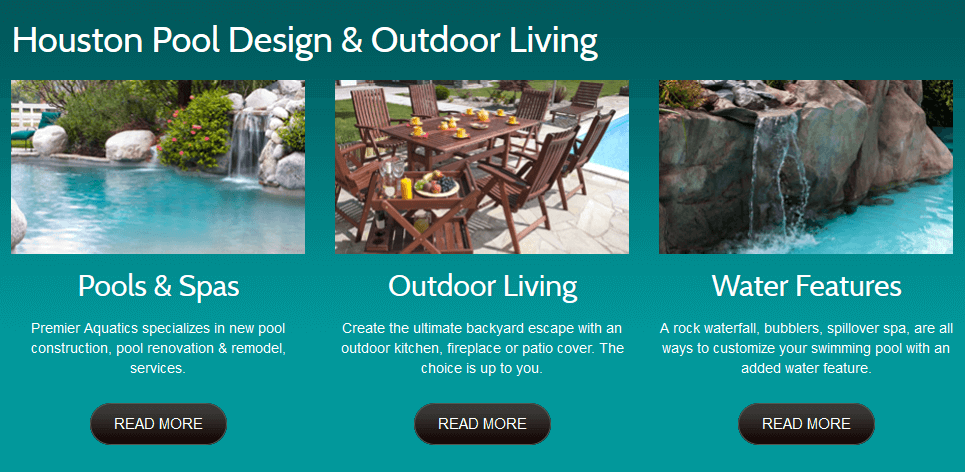 Learn about the actual company in 1 minute with the customized video embedded right below the service categories. On-point, strategic copywriting was written below the video and throughout the site to provide helpful, easy-to-understand information about company's product and services and all pages are search engine optimized, set and ready for the best search engine rankings and site performance.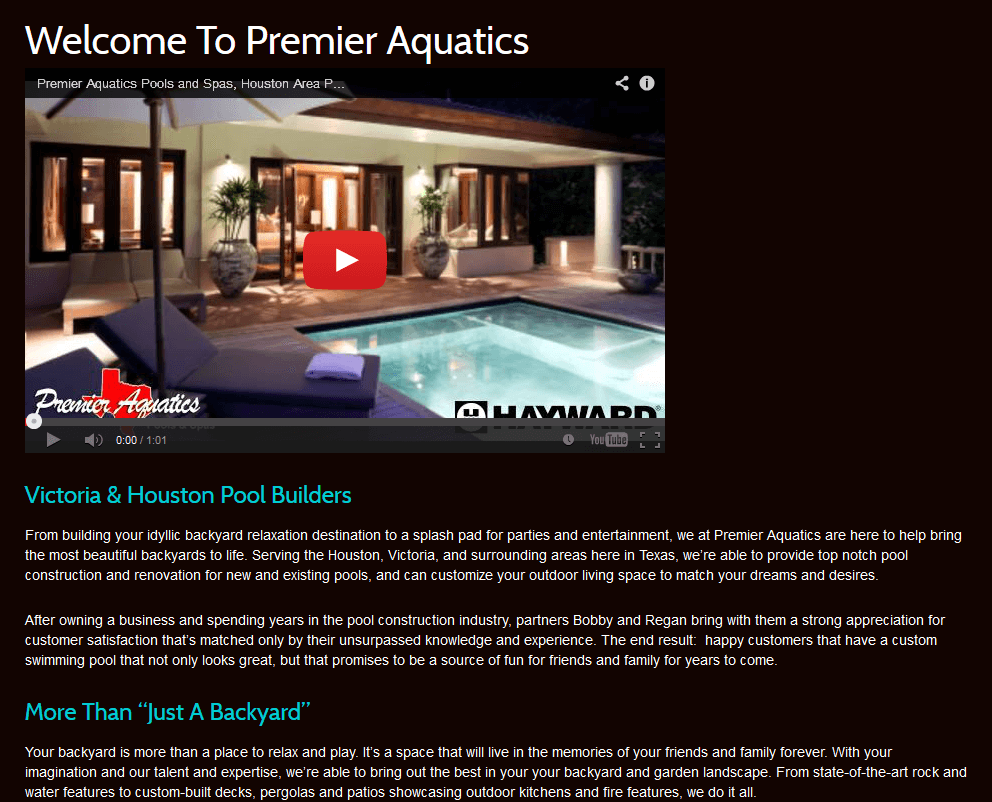 Additionally, if you want to take a look at galleries, stay up to date with pool industry news or company milestones, or see the latest specials from the pool company, just scroll down. These three areas stay static on every single page on the website, conveniently placed for visitors to click on.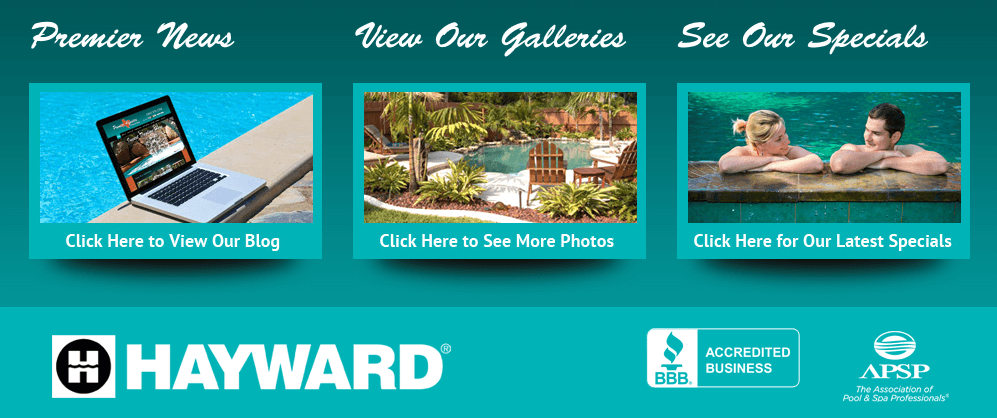 Of course, since Premier is a Hayward partner, a fancy equipment page listed with all of the quality materials that Premier provides to their clients.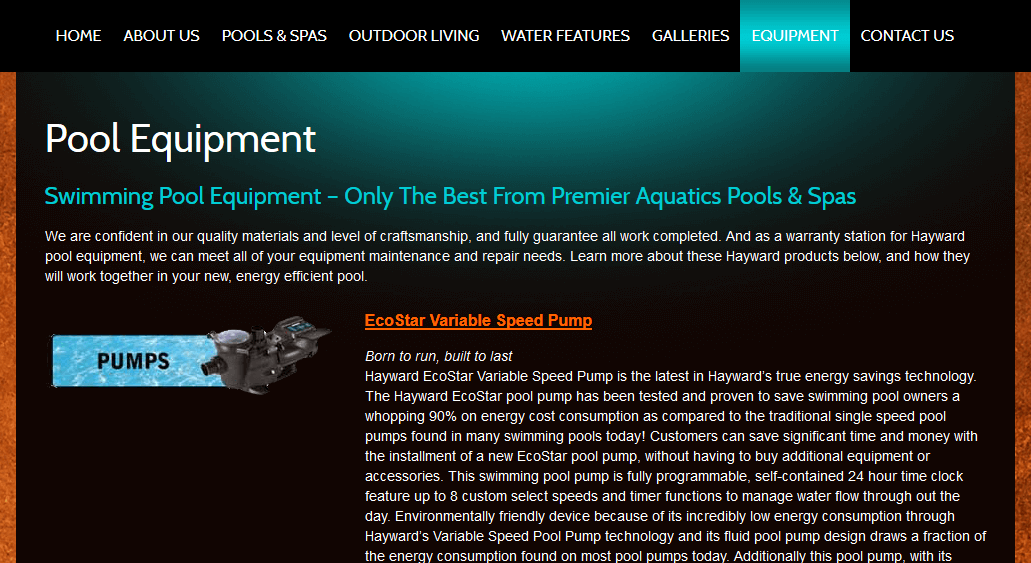 Finally, social media sharing integration and a contact form was added as extra touchpoints and follow up.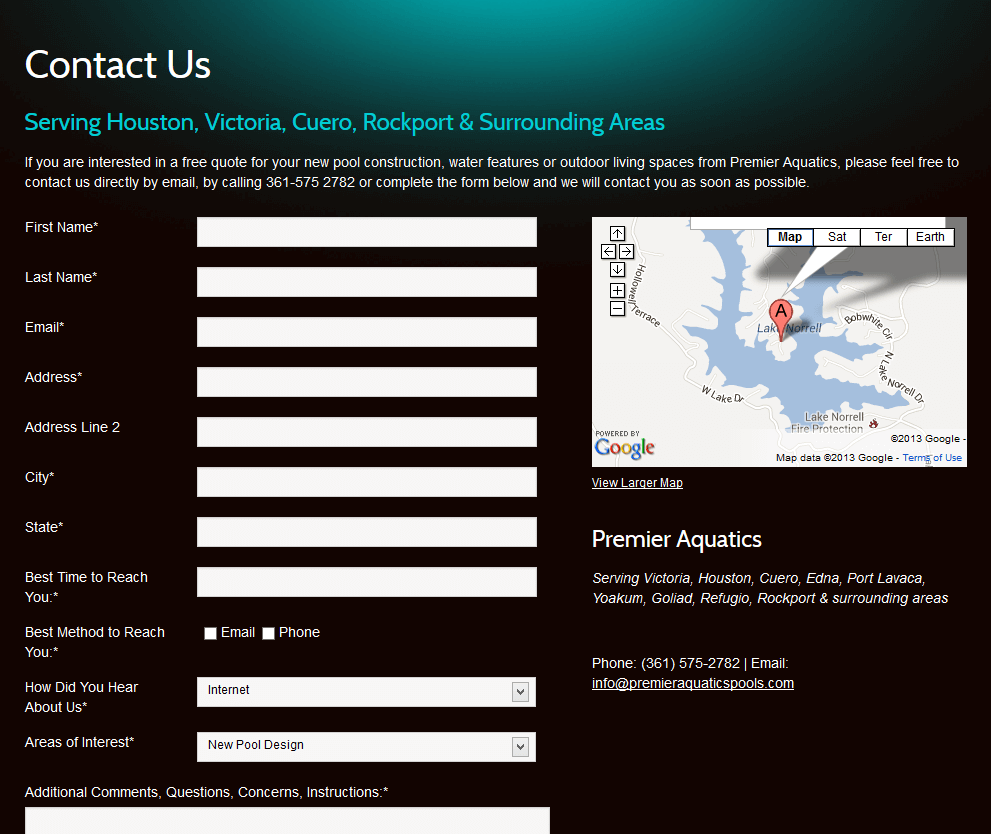 The team at Premier Aquatics is equipped and ready to build the perfect pool and backyard space by working with the most important team member of all, you. And with a brand new website design and digital presence, they are set to listen, meet your standards, and walk you through every step of the way. Congrats, Premier Aquatics!
Need a new digital marketing strategy? Sign up for our free marketing report! You'll receive a comprehensive report on your total web presence equipped with tips and recommendations for SEO, content marketing, web design, and more.
About Small Screen Producer
Small Screen Producer is dedicated to create and optimize your company's total online presence. As a leading innovator of digital media marketing since 2008, we have the experience to capitalize on your unique strengths to help your business succeed. Our goal is to help you Position, Pursue, Promote, and Protect your business. We offer a complete line of digital marketing solutions to get this done. They include website design, Google Ad services, Facebook and Instagram Ad services ,website lead capture tools and automation, social media marketing, reputation management, technical services, , graphic design, video production and monthly service plans. We take your online marketing and advertising off your to-do list, so you can focus on your core business.
Contact us today to learn more about boosting your company's revenue through our four pillars of success that will Position, Pursue, Promote, and Protect your business.