Pool Marketing Site Client Profile: Stewart Pools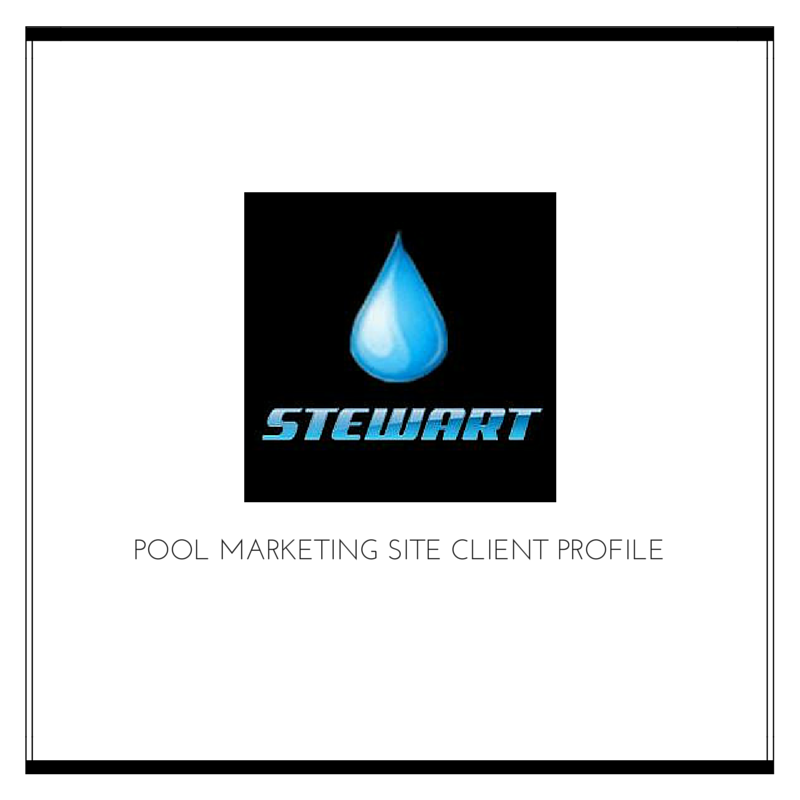 Stewart Pools is a high-end custom pool builder with a talent for adding a level of luxury into every pool and spa project they take on whether it's for a new pool or existing pool. Centered on providing clients with nothing but the best, the design team takes pride in their craft and applies their knowledge and experience to create unique poolscapes that transcend the norm. Whether it's sleek lines, ornate tile work, extravagant water features, decadent fire pits, or anything else you would like for your dream pool, Stewart Pools is focused on providing the best quality work in extravagant style.
Small Screen Producer built Stewart Pools a brand new website to coincide with their sleek, modern style. On the homepage, users are introduced to a high-resolution banner with a clean navigation at the top of the page.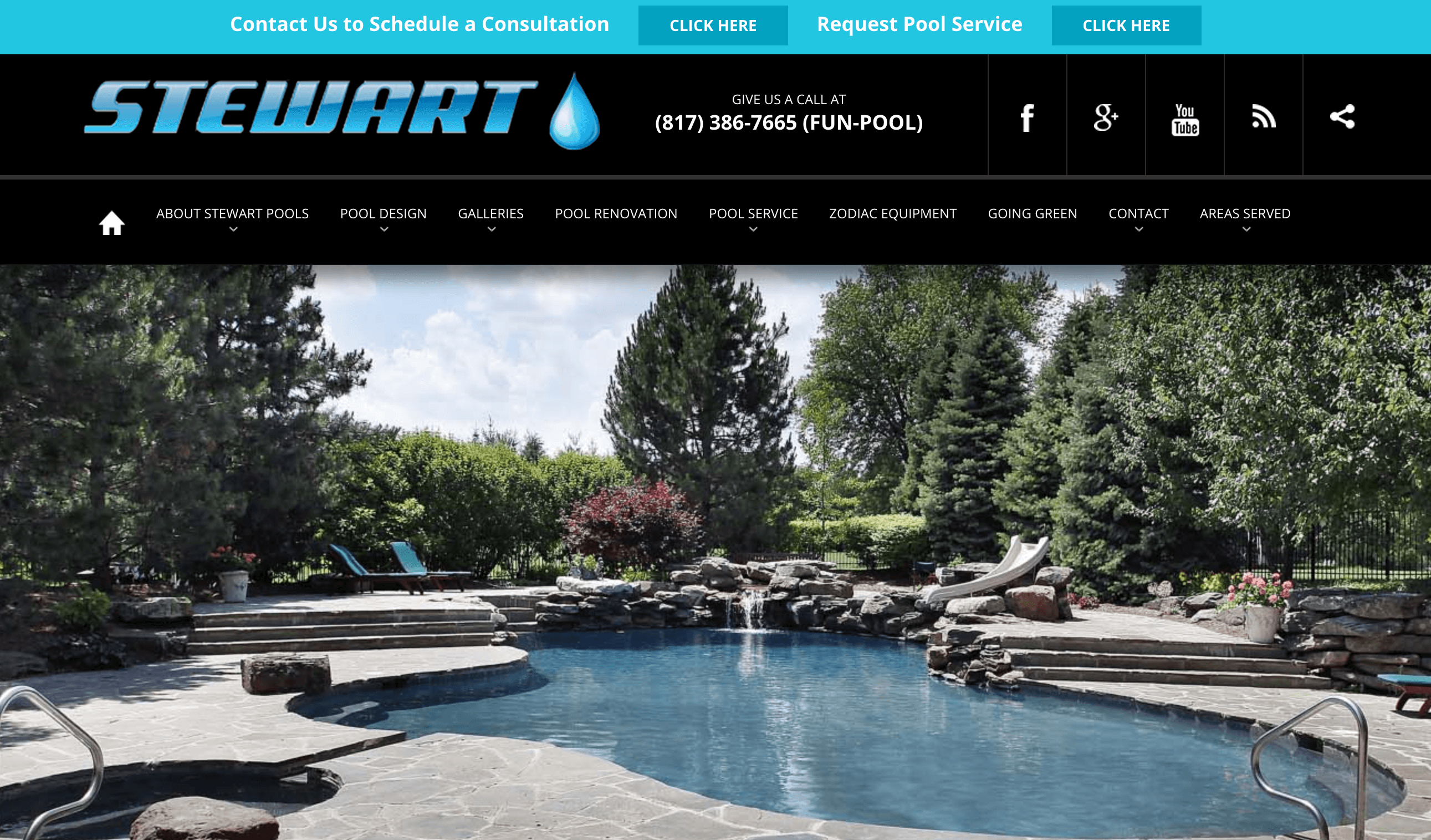 This WordPress, web responsive, Parallax scrolling site creates an engaging experience for the website visitor. When users scroll down, they can read about the company of watch their custom business profile video.

Visitors can learn more about the company's services by hovering over the four dedicated buckets located right under the business profile. Users may also click on categorized photo galleries to view photos of past projects.

An extravagant feature we added to this site is the customer resources section we added at the bottom of the homepage. Visitors are able read more about financing options, FAQs, areas served, Stewart Pools' latest news and eco-friendly equipment options. Visitors can also read testimonials of happy customers.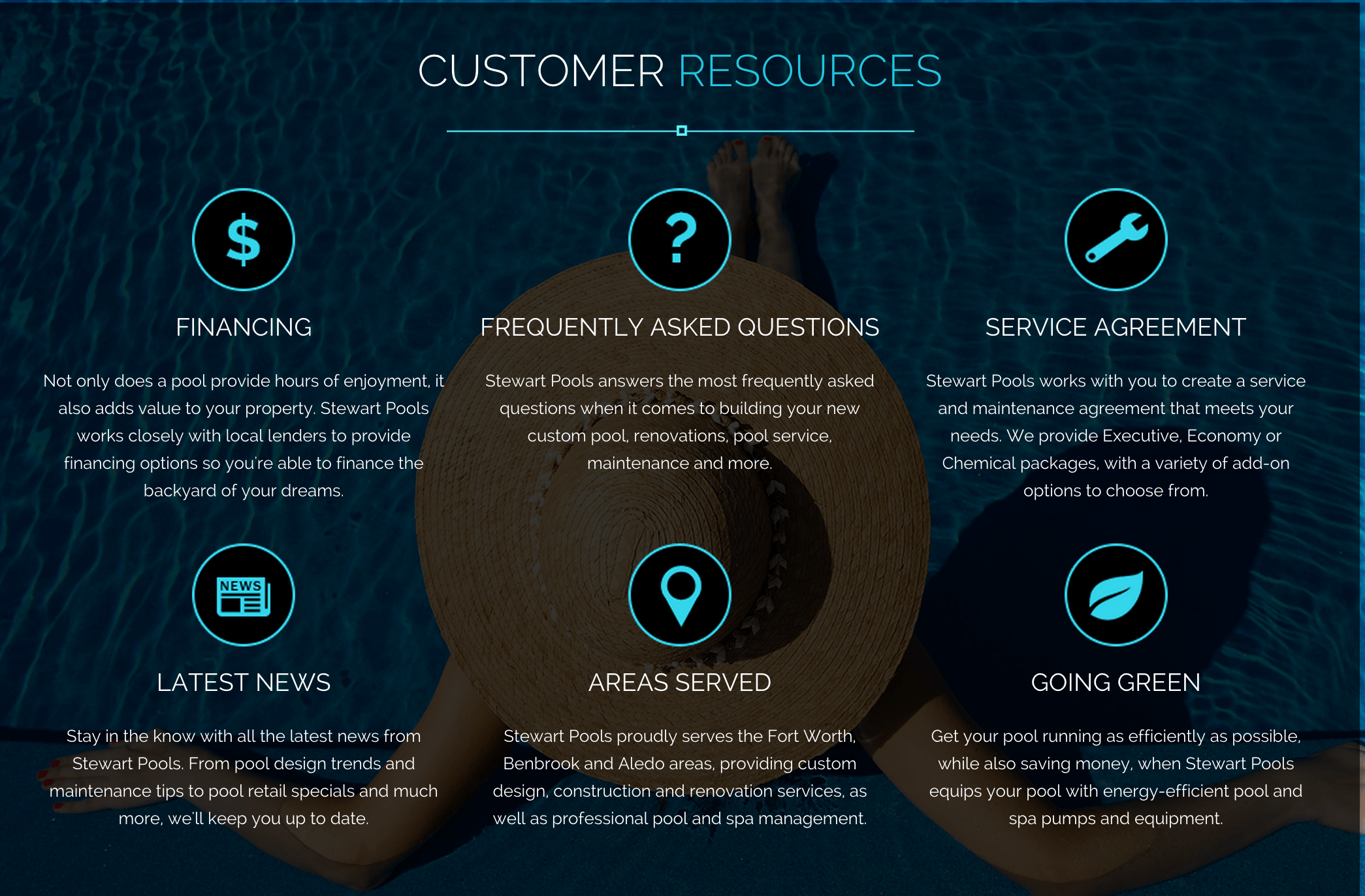 Each inside page of the website features the About Us video and testimonials modules on the right column of each page (as seen on the homepage).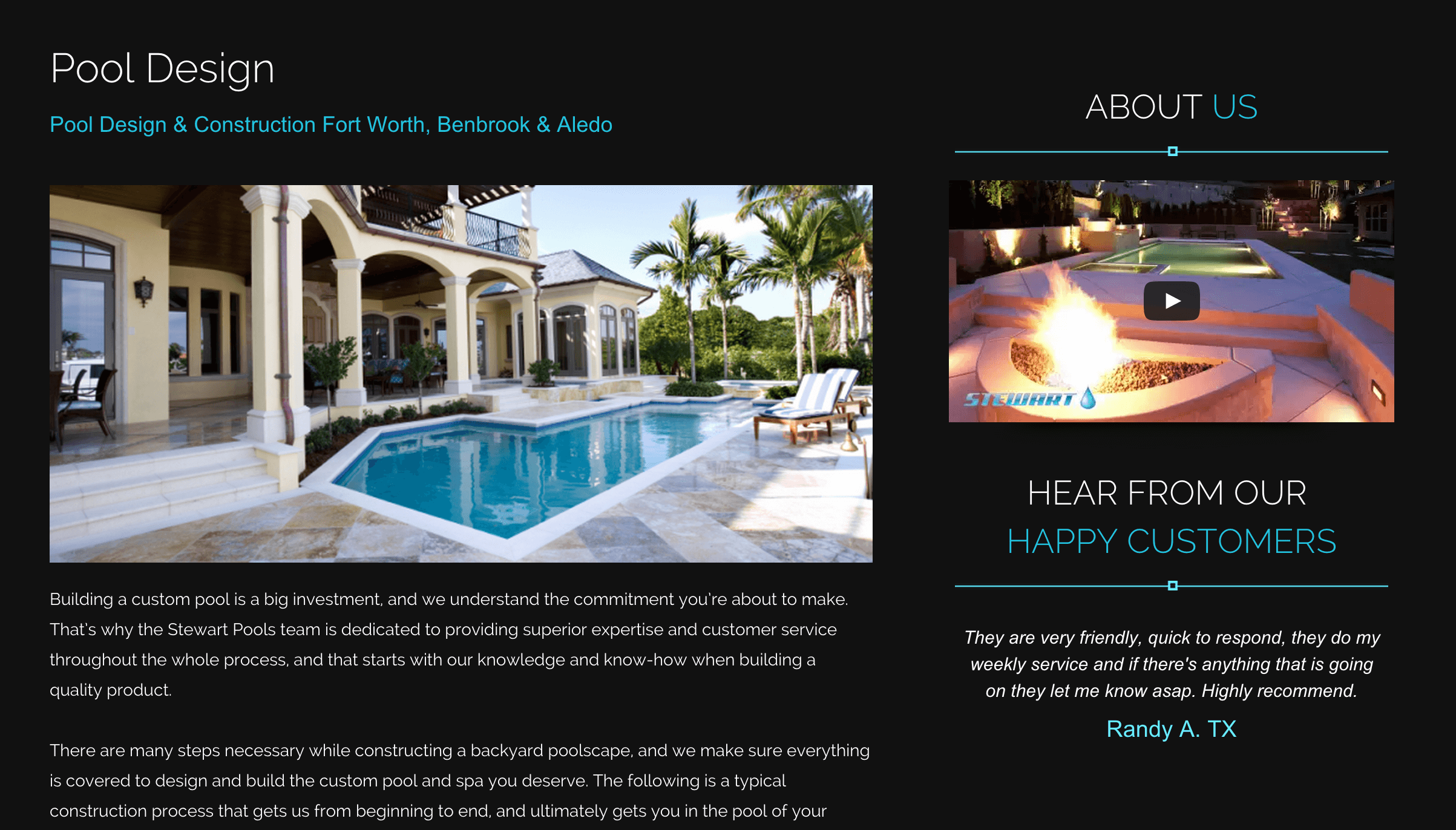 Click on the Pool Renovation page and see a juxtaposed Before/After gallery on past pool renovation projects.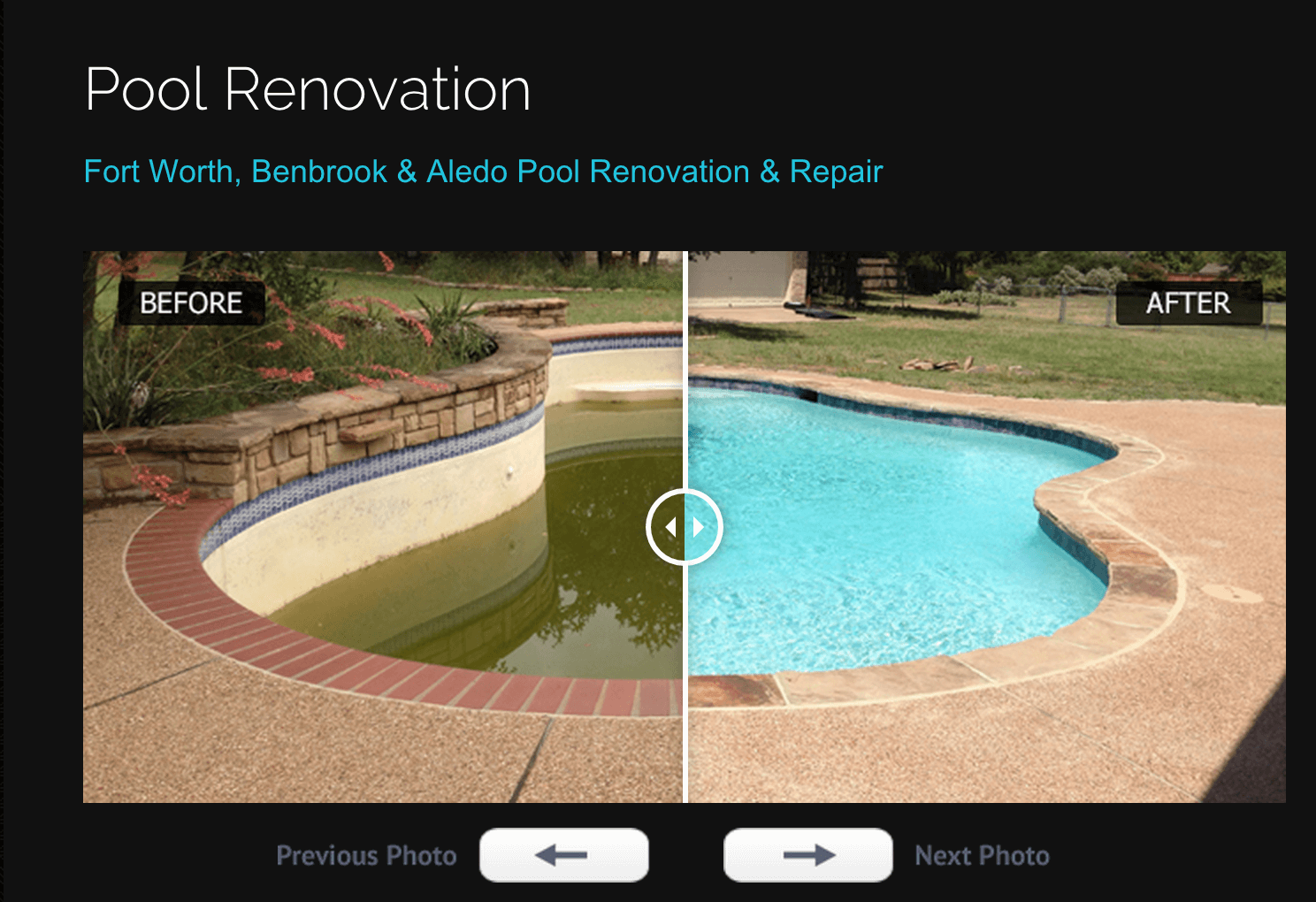 Pool service customers can visit the Pool Service page to read about pricing, fill out the service agreement, and schedule a pool service request.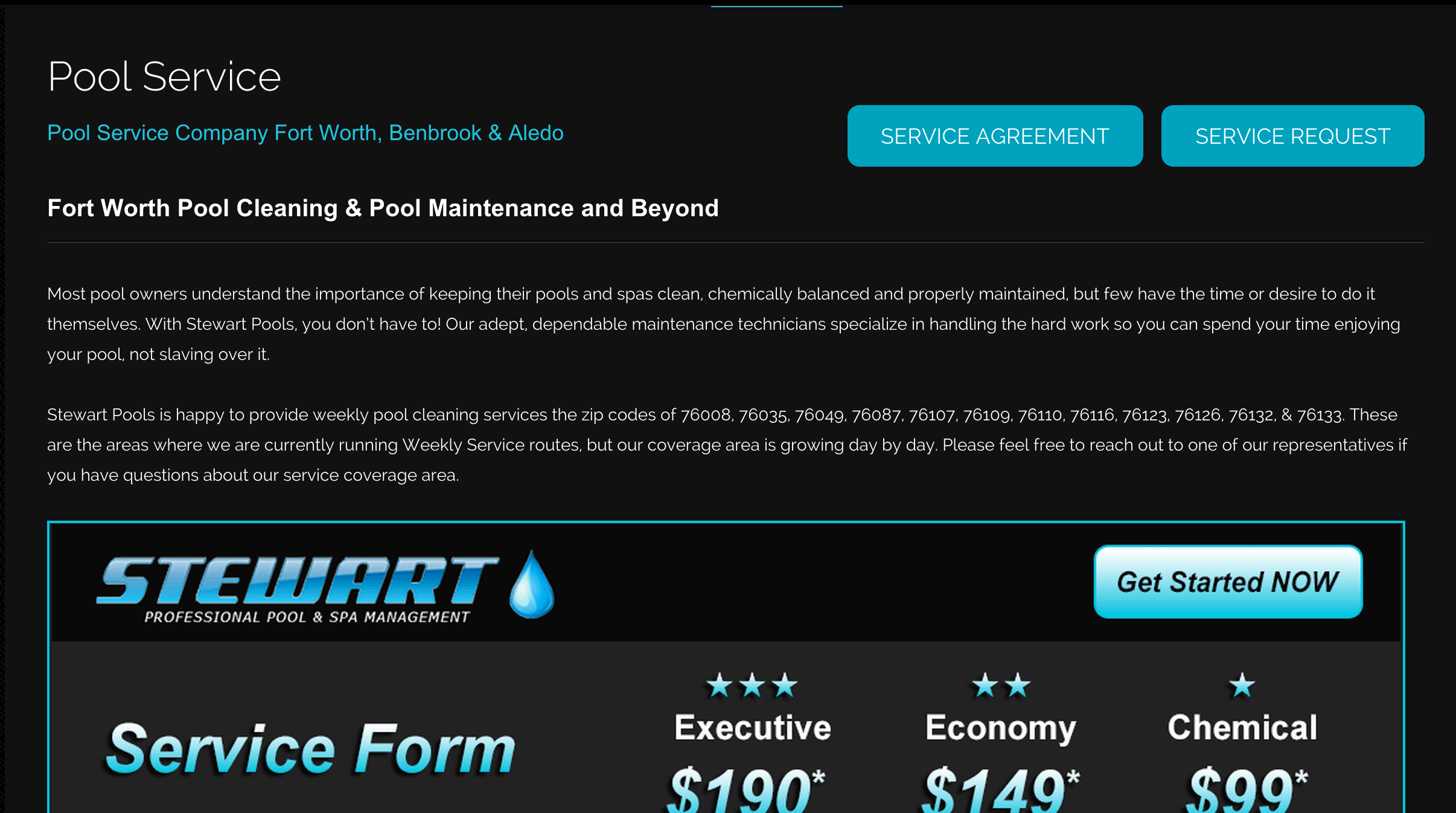 Custom contact forms, an Areas Served page integrated with Google Maps, and social media links finish off the website.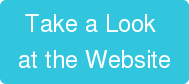 About Small Screen Producer
Small Screen Producer is dedicated to create and optimize your company's total online presence. As a leading innovator of digital media marketing since 2008, we have the experience to capitalize on your unique strengths to help your business succeed. Our goal is to help you Position, Pursue, Promote, and Protect your business. We offer a complete line of digital marketing solutions to get this done. They include website design, Google Ad services, Facebook and Instagram Ad services ,website lead capture tools and automation, social media marketing, reputation management, technical services, , graphic design, video production and monthly service plans. We take your online marketing and advertising off your to-do list, so you can focus on your core business.
Contact us today to learn more about boosting your company's revenue through our four pillars of success that will Position, Pursue, Promote, and Protect your business.