Social Media Design Services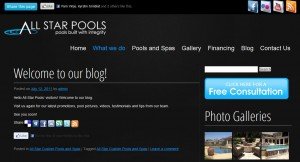 We at the Pool Marketing Site are big proponents of social media for the pool industry. Let's take a look at each social network and really break down why you should participate in some or all.  The choice is yours, and we'd love to help you get started.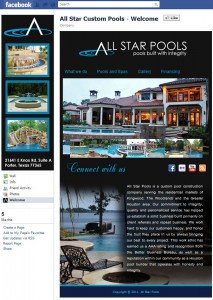 Facebook got its start in 2004 as a way for college students to connect online and share in each other's school experience. After unprecedented success and crazy rapid growth, kids, grannies and everyone in between are now using Facebook™ to connect with family, friends and colleagues around the world. Facebook™ has over 800 million active users that visit the site regularly. 50 percent of those users visit every day, and 21 percent are located within the United States. The average user has 130 friends. It doesn't take much calculation to see how quickly your business could gain serious exposure with a little Facebook™ marketing.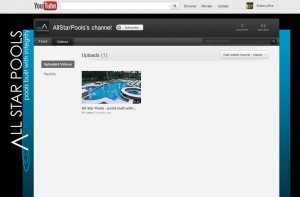 With more than 3 billion videos viewed each day, YouTube is the leading video sharing site. 17 million users have connected their YouTube account to at least one other social service, and more than 12 million have connected and are auto sharing to at least one other network. This presents potential for extremely rapid movement of your video testimonials, tutorials, and video commercials across the web- in short, instant exposure for your pool and spa business.
The YouTube community is widely interactive. You can even run special contests to help promote all of your social networking sites like this example from Carecraft: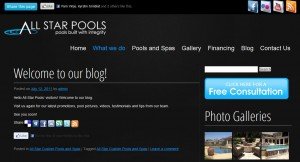 There are many ways to market your business online these days. So why use a pool marketing blog you ask? Here are our top reasons:
Establish Yourself as an Expert in Your Market
Your blog posts should be well structured and offer valuable information to your readers. Through engaging content, catchy titles, and relevant topics, you can effectively position yourself as a credible specialist in your area. Whether sharing the latest eco-friendly water treatment products, or explaining how to winterize a pool, strong and informative blog posts will solidify your reputation as a trusted pool expert in your area.
Build Relationships
Blogs are an excellent opportunity to show a more personal side to your business. People like doing business with people, and a pool marketing blog is an excellent way to personalize your brand. By inviting your readers to join a discussion through comments and in turn responding promptly to comments left, you have the opportunity to interact with old, new and potential customers on a personal level.
Create a Buzz
Blogs, like other social media platforms, are effective ways to create a buzz around your business. An active blog with regular back and forth give potential clients a positive impression of your business, reaffirming that you are a true professional, available and dependable. On the other hand, a blog that's most recent post is twelve months old gives the opposite impression. But don't fret. When you're short on time, our social media team can help you keep things fresh. Just ask us about our blog posting services!
Boost SEO
Google loves websites that are updated regularly with relevant and keyword rich content. By posting to your blog consistently and keeping your content on point with valuable information, you will drive traffic to your website and give a boost to your rankings. You can gain even more traction with search engines by encouraging readers to share favourite articles through their preferred social network, and inviting other bloggers to link back to your posts.
Twitter boasts over 100 million active users worldwide, 50 percent of whom log on daily. Twitter users post more frequently, often communicating in short bursts throughout each day. While your business approach to Twitter will differ from personal users, it still must maintain the personal and natural element that Twitter users treasure. Our social media team know how to strike just the right balance with your brief and personalized business profile and pool specific topics. By helping you present promotional content in a natural and friendly voice, we'll ensure your Twitter marketing efforts strike a chord within this more discriminating social community.
About Small Screen Producer
Small Screen Producer is dedicated to create and optimize your company's total online presence. As a leading innovator of digital media marketing since 2008, we have the experience to capitalize on your unique strengths to help your business succeed. Our goal is to help you Position, Pursue, Promote, and Protect your business. We offer a complete line of digital marketing solutions to get this done. They include website design, Google Ad services, Facebook and Instagram Ad services ,website lead capture tools and automation, social media marketing, reputation management, technical services, , graphic design, video production and monthly service plans. We take your online marketing and advertising off your to-do list, so you can focus on your core business.
Contact us today to learn more about boosting your company's revenue through our four pillars of success that will Position, Pursue, Promote, and Protect your business.